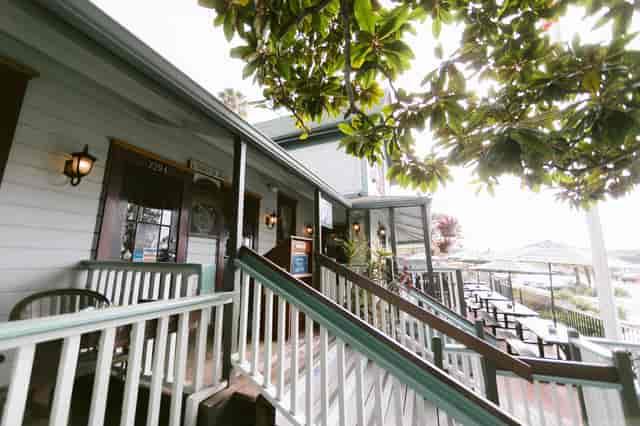 About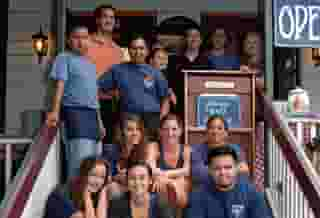 About the Summerland Beach Café
Just 3 miles south of Santa Barbara is the charming seaside town of Summerland, accented by antique shops and a lovely beach just a block away. The town was founded in 1889. Visitors to Summerland include Hollywood celebrities, Presidents, our own Santa Barbara locals as well as many who drive up from Los Angeles County to eat at the Summerland Beach Café. The Summerland Beach Café Victorian house was built back in 1893.

This rustic, charming, dog-friendly restaurant features home-style cooking in a cozy, inviting atmosphere. Enjoy breakfast or lunch indoors, on the front porch overlooking downtown Summerland or the back patio nestled in a wooded setting.

For breakfast, savor the sugar-cured thick-cut bacon, eggs benedict, steel cut slow cooked oatmeal, light & delicate waffles topped with fresh fruit or a world famous three-egg omelette. The thick-cut bacon is sliced especially for us and is the only place it is served in Santa Barbara County!

For lunch, enjoy juicy burgers, satisfying sandwiches and salads or barbecued chicken tacos (messy, but good). For those low cholesterol fans and vegetarians, there is plenty on the menu for you, too! We even have gluten-free options. While you read through the menu, be sure to note the Small Points on Table Etiquette, a reproduction of turn of the century philosophy in the art of eating properly, much of which still holds true today.
Community Support
Summerland Beach Café believes in the value of community service, and we donate our time, food, and gift cards to many events throughout the year. Our donations help many local organizations serve the less fortunate in our community which we believe helps our communities grow stronger and healthier. We support the efforts of many non-profits.

If your non-profit is interested in support from the Summerland Beach Café, please contact the owner, Pancho Lopez, by email or phone.